Computer Hacking Forensic Investigator (CHFI)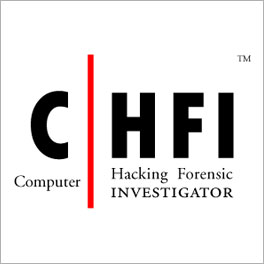 Computer forensics involves applying concepts and practices of computer investigation and analysis to determine potential on-line criminal activity and develop legal evidence. Computer Hacking Forensic Investigator (CHFI) is an industry leading, internationally awarded computer forensics training course that will apply hands-on lab work to help students comprehend the processes of detecting hacker attacks and to gather the evidence required to be able to report the on-line crime and potentially take the criminal down for their attack. The CHFI certification class also conducts activities to help secure a network and prevent against network intrusion.
At the end of this computer forensics training class participants will be equipped with the ability to retrace the steps of the hacker, gather the evidence along the path of penetration and prosecute the network intruder.
CHFI Audience
The CHFI course will benefit Police and other law enforcement personnel, Department of Defense and Military personnel, e-Business Security professionals, Systems administrators, Network admins, Legal professionals, Banking, Insurance professionals, Government agencies, IT managers and more.
Prerequisite
It is strongly recommended that you attend the CEH class before enrolling into CHFI program.
| EXAM CODE | EXAM | DETAILS |
| --- | --- | --- |
| 312-49 | Computer Hacking Forensic Investigator | View Details |