Certified Information Systems Auditor (CISA)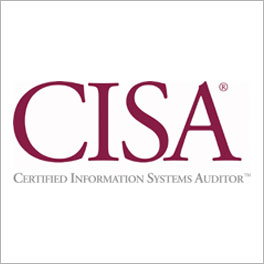 Course Description
The credential of a professional I.S. auditor is valuable. This course delves into the unique challenges of managing an audit and the knowledge necessary to complete the task. Information Systems auditors take up where the financial auditors do not tread – into the design and implementation effectiveness and operation effectiveness of information systems. The course will focus on general computer control, application level control auditing as well as introducing of risk based management approach.
The course is also designed to help candidates familiar with IT audit concepts and rules for regulatory compliance under Sarbanes-Oxley (corporations), Gramm-Leach-Biley & FFIEC (both financial), FISMA (government), HIPAA (medical records), SCADA (utilities) and other regulations.
The course will also help you to become a true management consultant in IT audit field and will help you well prepared for the CISA examination, which offered by I.S. Audit and Control Association (ISACA) twice a year, one worldwide test in June and the second test in December.
Course Overview
This instructor-led classroom training covers the CISA body of knowledge to build a working understanding of the material. The training course will cover topics such as auditor responsibilities, scope, audit charter, technical material, privacy requirements, and security requirements. Those IT audit concepts and methodologies will map directly to the requirements for CISA exam preparation. The course has updated the contents to reflect the new subject material on the 2012 exam.
Course Delivery
Instructor speech
Group discussion & class participation
Questions are actively encouraged
Videos
Personal attention to YOUR individual learning needs
Teaching Strategies
A variety of teaching strategies may be utilized in this course, including but not limited to, lecture, discussion, written classroom exercises, written lab exercises, performance based lab exercises, demonstrations, quizzes and examinations. Some quizzes may be entirely or contain lab based components.
Who Needs To Attend
The course is for those who desiring to learn IT audit methodologies, to pass CISA exam and to become CISA certified professionals. This course specifically focuses on the entire CISA knowledge requirements in a highly structured manner. The course is designed ideal for CISA candidates to review subjects normally skimmed and often missed by volunteer study and selfstudy.
Suitable for:
Internal and external auditors
Finance/CPA professionals
IT professionals
Information Security professionals
Learning Objectives
The Process of Auditing Information Systems
IT Audit and Assurance Standards, Guidelines and Tools and Techniques, Code of Professional Ethics and other applicable standards
Risk assessment concepts, tools and techniques in an audit context
Control objectives and controls related to information systems
Audit planning and audit project management techniques, including follow-up
Fundamental business processes, including relevant IT
Applicable laws and regulations which affect the scope, evidence collection and preservation, and frequency of audits
Evidence collection techniques used to gather, protect and preserve audit evidence
Sampling methodologies
Reporting and communication techniques
Audit quality assurance systems and frameworks
Governance and Management of IT
IT governance, management, security and control frameworks, and related standards, guidelines, and practices
The purpose of IT strategy, policies, standards and procedures for an organization and the essential elements of each Organizational structure, roles and responsibilities related to IT
Processes for the development, implementation and maintenance of IT strategy, policies, standards and procedures
Organization's technology direction and IT architecture and their implications for setting long-term strategic directions
Relevant laws, regulations and industry standards affecting the organization
Quality management systems
Maturity models
Process optimization techniques
IT resource investment and allocation practices, including prioritization criteria
IT supplier selection, contract management, relationship management and performance monitoring processes including third party outsourcing relationships
Enterprise risk management
Monitoring and reporting of IT performance
IT human resources (personnel) management practices used to invoke the business continuity plan
Business impact analysis (BIA) related to business continuity planning
The standards and procedures for the development and maintenance of the business continuity plan and testing methods
Information Systems Acquisition, Development, and Implementation
Benefits realisation practices
Project governance mechanisms
Project management control frameworks, practices and tools
Risk management practices applied to projects
IT architecture related to data, applications and technology
Acquisition practices
Analysis and management practices
Project success criteria and risks
Control objectives and techniques that ensure the completeness, accuracy, validity and authorization of transactions and data
System development methodologies and tools including their strengths and weaknesses
Testing methodologies and practices related to information systems development
Configuration and release management relating to the development of information systems
System migration and infrastructure deployment practices and data conversion tools, techniques and procedures
Post-implementation review objectives and practices
Information Systems Operations, Maintenance and Support
Service level management practices and the components within a service level agreement
Techniques for monitoring third party compliance with the organization's internal controls
Operations and end-user procedures for managing scheduled and non-scheduled processes
Technology concepts related to hardware and network components, system software and database management systems
Control techniques that ensure the integrity of system interfaces
Software licensing and inventory practices
System resiliency tools and techniques
Database administration practices
Capacity planning and related monitoring tools and techniques
Systems performance monitoring processes, tools and techniques
Problem and incident management practices
Processes, for managing scheduled and non-scheduled changes to the production systems and/or infrastructure including change, configuration, release and patch management practices
Data backup, storage, maintenance, retention and restoration practices
Regulatory, legal, contractual and insurance issues related to disaster recovery
Business impact analysis (BIA) related to disaster recovery planning
Development and maintenance of disaster recovery plans
Alternate processing sites and methods used to monitor the contractual agreements
Processes used to invoke the disaster recovery plans
Disaster recovery testing methods
Protection of Information Assets
Techniques for the design, implementation, and monitoring of security controls, including security awareness programs
Processes related to monitoring and responding to security incidents
Logical access controls for the identification, authentication and restriction of users to authorized functions and data
Security controls related to hardware, system software, and database management systems
Risks and controls associated with virtualization of systems
Configuration, implementation, operation and maintenance of network security controls
Network and Internet security devices, protocols, and techniques
Information system attack methods and techniques
Detection tools and control techniques
Security testing techniques
Risks and controls associated with data leakage
Encryption-related techniques
Public key infrastructure (PKI) components and digital signature techniques
Risks and controls associated with peer-to-peer computing, instant messaging, and web-based technologies
Controls and risks associated with the use of mobile & wireless devices
Voice communications security
Evidence preservation techniques and processes followed in forensics investigations
Data classification standards and supporting procedures
Physical access controls for the identification, authentication and restriction of users to authorized facilities
Environmental protection devices and supporting practices
Processes and procedures used to store, retrieve, transport and dispose of confidential information assets