CompTIA A+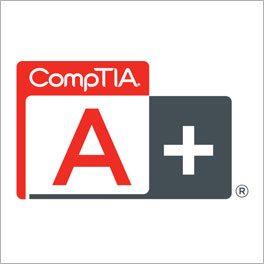 The CompTIA A+ certification is the starting point for a career in IT. The exams cover maintenance of PCs, mobile devices, laptops, operating systems and printers.
CompTIA A+ certifies that your entry-level IT staff has the right skills to successfully get the job done. CompTIA A+ certification validates foundation-level knowledge and skills necessary for a career in IT helpdesk and remote support.
The CompTIA A+ is a vendor neutral course that validates your knowledge and skills that are necessary to implement computer technology, installation, preventative maintenance, networking, security and the communication skills and professionalism required of all entry-level IT professionals.
Course Duration
60 Hours
Exam Objectives
Click for details
Exam Details:
In order to receive CompTIA A+ certification, a candidate must pass two exams.
The first exam CompTIA A+ 220-1001 covers mobile devices, networking technology, hardware, virtualization and cloud computing and network troubleshooting.
The second exam CompTIA A+ 220-1002 covers installing and configuring operating systems, expanded security, software troubleshooting and operational procedures.
Exam Name
CompTIA A+ Essentials, CompTIA A+ Practical Application
Exam Code
220-1001, 220-1002
Duration
90 Minutes each
Type of questions
Multiple choice and performance based
Passing score
CompTIA A+ 220-1001: 675 (on a scale of 100-900)

CompTIA A+ 220-1002: 700 (on a scale of 100-900)
You can take your exam at our Pearson VUE test center.
Jobs that use CompTIA A+
Technical support specialist
Field service technician
IT support technician
IT support administrator
IT support specialist
CompTIA A+: Is a good starting point for beginners who would like to scale upwards to server side of IT (Core Infrastructure server). Two of the most praised qualifications for servers are, MCSA (Microsoft Certified System Associates) and MCSE (Microsoft Certified System Expert).
MCSA and MCSE are qualifications required to start as junior administrator and move upward as server engineer.
Refer to our server section under technical certification for more information.